The New Currency - The Amero
Who voted for this? Where is Congress on this matter? "The note is a complete fraud. In the United States – The Congress shall have Power To lay and collect Taxes, Duties, … coin Money, regulate the Value thereof. The Federal Reserve bankers' NAU Note unlawfully eliminates the US Congress power to coin the US money. It is a fraud because it eliminates the vote of the US citizens, the Canadian citizens and Mexican citizens. Its claim of legal tender is based entirely on the Federal Reserve created free trade agreement..."
The New Currency - The Amero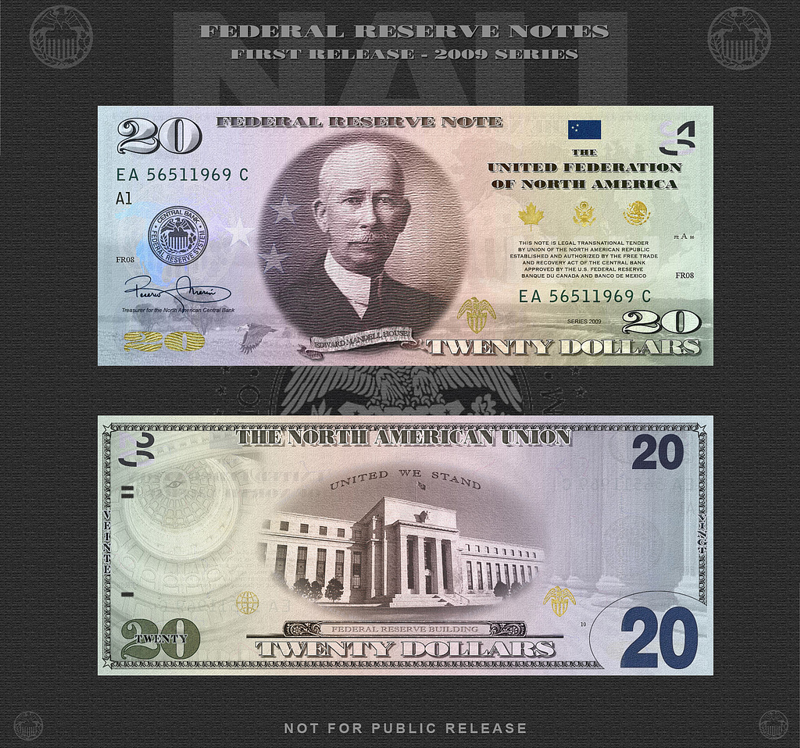 The fine print says:
"THIS NOTE IS LEGAL TRANSNATIONAL TENDER BY UNION OF THE NORTH AMERICAN REPUBLIC ESTABLISHED AND AUTHORIZED BY THE FREE TRADE AND RECOVERY ACT OF THE CENTRAL BANK APPROVED BY THE U.S. FEDERAL RESERVE BANQUE DU CANADA AND BANCO DE MEXICO" .
Who is that? Yeah that's what I want on my currency a picture of the Federal Reserve building. I wonder what Canada and Mexico think about this? Do you see that it says above the Federal Reserve Building "United We Stand." Are the Canadians, the Mexicans, and the Americans united over the Federal Reserve being our God? Some one's EGO is way outta control here!
"The Federal Reserve bankers claims totalitarian authority over the United States, Canadian and Mexican people. Their worthless North American Union Note isn't approved by the people of the United States, Canada and Mexico. It is only approved by itself. It fraudulently claims that it is approved by the central banks in the US, Canada and Mexico. Those central banks could never approve such a scheme as they are mandated by the elected representatives of the people of the United States, Canada and Mexico. Here in Canada the Bank of Canada's (BANQUE DU CANADA) mandate is to conduct monetary policy in a way that promotes the economic and financial well-being of Canadians – not to a foreign owned Federal Reserve Banks."
Source: http://presscore.ca/2011/?p=2347